Armadale-Kelmscott Congregation 1977-present
The history of our congregation commenced with the first service of the Armadale Methodist congregation which was held at the Armadale Senior Citizens Centre on Easter Sunday 30 March 1975. Reverend John Rainsbury was the minister and he served from 1975 to 1977 before retiring to South Australia. Before this there were three Congregational churches located in Roleystone, Kelmscott and Armadale, a Presbyterian Church in Byford and a Methodist Church in Mundijong operating in co-operation with Byford.
On the 22 June 1977, the Methodist, Presbyterian and Congregational churches combined to form the Uniting Church in Australia. The Armadale congregation and the Byford congregation became the Armadale-North Murray Parish while the three Congregational Churches remained independent. Reverend David McAndrew, who succeeded John Rainsbury in the Parish, was ordained and inducted in the Byford church on 5 February 1978. At that time, Kelmscott was part of Gosnells Parish.
In the early 1980s, the Uniting Church Synod of WA changed the parish boundaries to match the Local Government areas and the first service of the Kelmscott congregation was held in the Music Room at Kelmscott Primary School on 21 February 1982 with the congregation being officially recognised on 10 October that same year. The Kelmscott congregation then became part of the Armadale-North Murray Parish along with the Armadale and Byford congregations. After seeing the Kelmscott congregation well established Reverend David McAndrew concluded his settlement at the end of 1983.
Coming to us in early 1984, Reverend John Edwards initiated the search for a suitable property in central Armadale in 1986. The Busy Bee Plant Nursery in Lowanna Way in Armadale was purchased and renovated and was officially opened as a church on 24 July 1988. On that same day the congregations of Armadale and Kelmscott were merged by Presbytery to become the Armadale/Kelmscott Congregation. Much hard work in the fitting out of the building meant that we had a solid base for outreach into the community. Unfortunately John had to leave us in late 1988 for health reasons.
Our next minister was Reverend Solomon Gokavi who was ordained and inducted in February 1989. He led us through a period of growth when our numbers reached into the 90s and we had an overflowing Sunday School. Solomon was with us until January 1995 when he was called to Cottesloe Parish. Solomon was succeeded by Reverend Dr Alan Stubbs that same year. Alan saw potential for further growth and the congregation became recognised by Synod as Armadale Parish Mission. Despite some successes the Mission failed to realise its potential due to a succession of unfortunate events and it was disbanded in 2003. Alan was also suffering ill-health and retired later in that year.
Several interim ministers assisted us until a new opportunity arrived with the ordination and induction of Reverend Willie Pickett in October 2004. His placement was a shared one, half-time with the Uniting Aboriginal and Islander Christian Congress and half-time with Armadale/Kelmscott and Byford Congregations. Local indigenous families were invited to share in the morning worship and attended a Noongar Sunday evening fellowship. Willie and Carleen, his wife, initiated a number of successful indigenous outreach programs, several of which are still running under different management. Willie completed his placement with us at the end of July 2007 and went to a UAICC appointment in Geelong. We have been greatly enriched by the ministers who have led us over the years and our regular worship service held at 9.00am each Sunday, is led by a number of ordained Ministers (mostly retired) and Lay Preachers from around the region.
Fund-raising was a major theme as we sought to equip our building and extend our outreach and many members have very happy memories of the resultant camaraderie and fun times with fairs, concerts and dinners. Our community outreach was to Sarah Hardey, a 64 bed Uniting Church Home in Kelmscott, where a team of nine volunteers provided a weekly Worship Service for residents as well as pastoral and other support for both residents and staff. Another community activity at this time and which is still running, is the Friday morning Coffee Spot which attracts around 15 people who enjoy playing card games and scrabble. Our brick manse, which was next door, had to be demolished in about 2006 because of vandalism and squatters.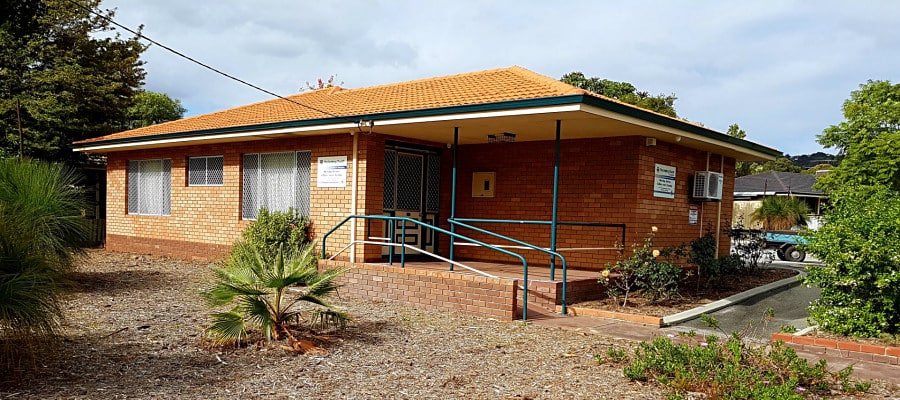 Ever-increasing vandalism and the deteriorating condition of the Lowanna Way building were major factors in the decision to move from these premises into our current building in Anton Street in 2009. Our current building is small and has restricted our activities, but we are currently conducting our weekly 9.00 am church service and Messy Church on the fourth Sunday of the month at 4.00 pm. The Assyrian Holiness church meet monthly for their service in Arabic.
Our community outreach includes free food on Monday mornings, Razzle Dazzle which is a dance program for preschoolers and the Friday Coffee Spot which has now been operating for over twenty years. We look forward to continued growth in a bigger building in the future.